About the String Trio
We've had an overwhelming interest in our other ensembles – Premiere Trio and Premiere Duo. Maybe you feel that a string quartet would be too powerful a sound for your event or the space is slightly limited. The String Trio is made up of violin, viola and cello so you have the same range of sound as a string quartet but with one less instrument so all registers are covered. We have a large repertoire for all combinations. Our trio repertoire is basically the same as the quartet (which you can find on our website) with a couple of exceptions but most of the pieces work really well for the trio. Thanks to our research in obtaining music and our own special arrangements we have a large repertoire for these ensembles.
If you had a particular piece in mind that's not on our list we can look into finding it or making a string trio arrangement for you. We are experienced arrangers and most pieces will work well for any combination.
Lineup
Cello, Viola & Violin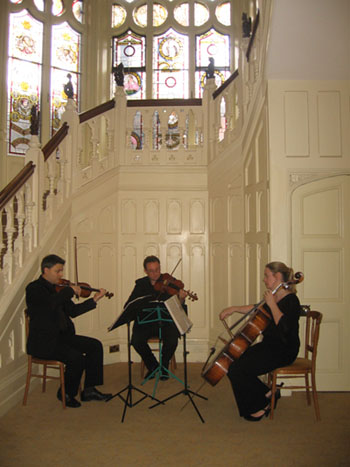 Trio Repertoire
Classical Trio music for CEREMONY/PROCESSIONAL
Some suggestions….
Bach Air on a G String
Bach Double Violin Concerto – 2nd Movement
Bach Jesu Joy of Man's Desiring
Beatles – All You Need Is Love
Clarke Trumpet Voluntary
Delibes Flower Duet
Faure Pavane
Gounod Ave Maria
Handel Hallelujah Chorus
Handel Hornpipe
Pachelbel Canon
Purcell Trumpet Tune
Mascagni Intermezzo from Cavalliera Rusticana
Mendelssohn  Wedding March
Wagner Bridal March
CLASSICAL
 Anderson Belle of the Ball Waltz
Bach Arioso
Bach-Gounod Ave Maria                                                                                         Bach Brandenburg Concertos                                                                                  Bach Concerto for 2 Violins
Bach Jesu Joy of Man's Desiring
Bach Prelude from English Suite No. 3
Bach Air from Suite No. 3 ( "Air on a G String")
Bach Wachet Auf
Bach Sheep may Safely Graze
Bach My Heart Ever Faithful
Bartok Roumanian Folk Dances
Beethoven Fur Elise
Beethoven Ode to Joy
Bizet Carmen Entr'acte
Bizet Habanera from Carmen
Bizet Prelude to Carmen
Boccherini 6 Trios
Boccherini Minuet
Borodin Polovtsian Dance from Prince Igor ("Stranger In Paradise")
Brahms Hungarian Dances                                                                           Charpentier Te Deum                                                                                             Corelli Concerto Grossi
Debussy The Girl With The Flaxen Hair
Delibes Flower Duet from Lakme ("British Airways")
Delibes Passepied
Dvorak Sonatina
Dvorak Humoresque
Elgar Beau Brummel Minuet
Elgar Chanson de Matin
Elgar "Nimrod"
Elgar Salut d'Amour
Faure Pavane
Frank Panis angelicus
Gound Ave Maria
Grunfeld Waltz from "Der Lebemann"
Haydn Trio in Eb
Handel "All We Like Sheep" from The Messiah
Handel Arrival of the Queen of Sheba
Handel Hallelujah Chorus from The Messiah
Handel Largo
Handel Music For The Royal Fireworks
Handel Water Music
Herbert Gypsy Life                                                                                                Howard Blake String Trio
Karl Jenkins Palladio ("De Beers Diamond Music")
Keler Son of The Puszta                                                                                       Kreisler Liebesfreud
Lehar Waltzes from The Merry Widow
Mascagni Intermezzo from Cavelliera Rusticana
Massenet Meditation from Thais
Mendelssohn Canzonetta
Mendelssohn Wedding March
Mendelssohn If With All Your Hearts                                                                  Monti Czardas
Mozart Eine Kleine Nachtmusik
Mozart Laudate Dominum
Mozart March from Marriage of Figaro Act 3
Mozart Rondo Alla Turca
Mozart Trio in G
Mozart LaudateDominum
Mozart Andante from Piano Concerto No21
Mozart Allelujah from Exsultate, Jubilate
Mouret Rondeau
Offenbach Galop from "La Vie Parisienne"
Pachelbel Canon in D
Puccini Nessun Dorma
Puccini O Mio Babbino Caro
Purcell Chacony
Purcell Rondeaux from Abdelazar and The Fairy Queen
Purcell Trumpet Tune
Purcell Trumpet Voluntary
Purcell Suite from the Fairy Queen
Saint-Saens The Swan
Satie Gymnopedie No.1
Sartori Con Te Partiro
Schubert Trio in E flat
Schumann Traumerei
Shostakovich Romance from "The Gadfly"                                                             Sibelius Trio in A Minor
Strauss Blue Danube Waltzes ("2001")
Strauss Pizzicato Polka
Sullivan "Three Little Maids" from The Mikado
Tchaikovsky Sleeping Beauty Waltz                                                                      Telemann Viola Concerto
Verdi Andantino from The Force of Destiny ("Stella Artois")                             Vivaldi Gloria
Vivaldi The Four Seasons – Spring/Winter                                                        Vivaldi Concerto for 2 Violins
Wagner Bridal Chorus
LIGHT MUSIC
As Time Goes By – Hupfield                                                                                   Begin The Beguine                                                                                              Bésame Mucho – in the style of Andrea Bocelli
Blue Tango – Anderson                                                                                             Cheek to Cheek (in the style of Ella Fitzgerald)
Cock Linnet
Con Te Partiro (Time To Say Goodbye)
Danzas Argentinas – Ginasteras
Dark Eyes  – Trad. Russian                                                                                            El Choclo
Evergreen – Streisand                                                                                      Gershwin – A Foggy Day
Gershwin –Do It Again
Gershwin – Embraceable You
Gershwin – Someone To Watch Over Me
Gershwin – Summertime
Hava Nagila – Trad Jewish
Humko Humise Chura Lo                                                                                             I Get A Kick Out of You – Cole Porter
Jalousie Tango – Gade                                                                                                      La Cumparsita Tango
La Vie En Rose
Lamento Quichua
Laura                                                                                                                     Libertango – Piazzolla                                                                                            Manha de Carnaval (Black Orpheus)                                                              Margaret's Waltz – Pat Shaw
My Funny Valentine – Rodgers
Noites Cariocas – Bandolim
O Sole Mio
Satin Doll – Duke Ellington                                                                                       Send In The Clowns – Sondheim
Tango in D – Albeniz                                                    Tango Por Una Cabeza – Gardel
Tanguedia III – Piazzolla
The Entertainer – Joplin                                               The Girl from Ipanema
The Summer Knows – Legrand
TV, FILMS AND SHOWS
Aladdin – A Whole New World                                                  Armageddon – I Don't Wanna Miss a Thing                                  Breakfast At Tifanny's – Moon River                                         Chitty Chitty Bang Bang – Hushabye Mountain                              Fawlty Towers – Theme                                             Fiddler On The Roof – Sunrise, Sunset                                        Game Of Thrones – Main Titles                                               Gremlins – The Gremlin Rag
Harry Potter – Medley from 3 movies
JAMES BOND
All Time High (Octopussy)                                                  Diamonds Are Forever in the style of Shirley Bassey               Nobody Does It Better                                                    Theme from Dr No (James Bond Theme)
Enchanted – So Close                                                    Frozen – Let It Go                                                       Jeeves and Wooster – Theme                                                   Jurassic Park – Main Titles                                    Ladies in Lavender – Main Theme                                             Last of the Mohicans – The Kiss
Lloyd Webber The Phantom of the Opera                                       Lloyd Webber All I Ask of You from Phantom of the Opera
Lloyd Webber Music of the Night                                             Lloyd Webber Memory from Cats
Love Story – Main Theme                                                     Monty Python – Always Look on the Bright Side Of Life                 Moulin Rouge – Come What May                                           My Fair Lady – Medley                                           Raiders of the Lost Ark – Raiders March                                      Robin Hood Prince of Thieves – Everything I Do                              Rocky – Main Theme                                  Romeo and Juliet (1968) – A Time For Us                                     Romeo and Juliet (1996) – Kissing You (Des'ree)                              Romeo and Juliet (1996) – Balcony Scene                                     Romeo and Juliet (1996) – Everybody's Free                                  Schindler's List – Main Theme                                            Star Trek – Main Theme                                  Star Wars – Main Titles                                             Star Wars – Throne Room and End Titles                                      The Empire Strikes Back – Imperial March                                    The Godfather – Main Theme                                                The Magnificent Seven – Main Theme                                    The Mission – Gabriel's Oboe                                          The Sound of Music – My Favourite Things                                    The Wizard of Oz – Somewhere Over the Rainbow                               Titanic – My Heart Will Go On                                               Twilight – Thousand Years                                         Twilight – Bella's Lullaby                                               Up – Carl Goes Up                                                   West Side Story – Tonight                                                West Side Story – Somewhere                                                 West Side Story – I Feel Pretty            West Side Story –America                                                     West Side Story – One Hand, One Heart
ROCK/POP
Abba – Lay All Your Love on Me                                                                            Abba – Take a Chance on Me                                                                               Adele – To Make You Feel My Love                                                                       Adele – Set Fire to the Rain
Adele – Skyfall                                                                                                      Aerosmith – You're My Angel                                                                      Aerosmith – I Don't Wanna Miss a Thing                                                            Alicia Keys  – If I Ain't Got You                                                                     Alphaville – Forever Young
Bangles – Eternal Flame                                                                                              Beach Boys – Wouldn't It Be Nice                                                                               Beach Boys – God Only Knows
BEATLES:
And I Love Her
Hard Day's Night
Get Back
Hey Jude
Michelle
Yesterday
And I Love Her
Eleanor Rigby
Back In The USSR
Yellow Submarine
When I'm Sixty Four
Bee Gees – How Deep Is Your Love                                                                         Ben E. King – Stand By Me                                                                                           Ben Howard – Only Love                                                                                         Beyoncé – Halo
Beyoncé – Love on Top                                                                                              Black Eyed Peas – I Gotta Feeling
Britney Spears – Baby One More Time                                                                Bruno Mars – Just the Way You Are
Bruno Mars – Marry You                                                                                               Buddy Holly – True Love Ways                                                                                Bryan Adams – (Everything I Do) I Do It for You                                                   Carly Simon – Nobody Does It Better                                                                  Clean Bandit ft. Jess Glynne – Rather Be                                                     Carpenters – Yesterday Once More                                                                     Charles Aznavour – She                                                                                             Christina Perri – Thousand Years
Coldplay – Clocks
Coldplay – Viva La Vida
Coldplay -Fix You
Coldplay – Paradise
Coldplay – Reign of Love
Coldplay – The Scientist
Coldplay – A Sky Full of Stars                                                                                   Crowded House – Fall at Your Feet                                                                         Cyndi Lauper – Time After Time                                                                              Daft Punk feat. Pharrell Williams – Get Lucky                                                    David Bowie – Heroes
David Bowie – Let's Dance
David Bowie – Life on Mars?                                                                                   David Gray – Babylon
David Guetta ft. Sia – Titanium
David Guetta ft. Usher – Without You                                                                    Dean Martin – That's Amore                                                                                   Dexys Midnight Runners – Come On Eileen                                                             Ed Sheeran – Thinking Out Loud                                                                         Elbow – One Day Like This                                                                                          Ellie Goulding – How Long Will I Love You?                                                             Ellie Goulding – Love Me Like You Do                                                                    Elton John – Your Song                                                                                              Elvis Presley – Love Me Tender                                                                                Enrique Iglesias – Hero                                                                                                Eric Clapton – Wonderful Tonight                                                                          Fleetwood Mac – Dreams
Florence and the Machine – Dog Days Are Over
Florence and the Machine – Shake It Out                                                                 Foo Fighters – Everlong
Foo Fighters – Learn to Fly                                                                                            George Harrison – Here Comes The Sun                                                                  Gnarls Barkley – Blind Mary
Goo Goo Dolls – Iris                                                                                                      Guns N' Roses – Sweet Child o' Mine
Jack Johnson – Better Together                                                                               Jason Derulo – Marry Me                                                                                       Jason Mraz – I Won't Give Up                                                                                Jason Mraz – I'm Yours                                                                                                Jay Z – Public Service Announcement
Jay Z ft. Alicia Keys – Empire State of Mind                                                            John Denver – Annie's Song                                                                                       John Legend – All of Me                                                                                         John Lennon – Imagine                                                                                               Justin Timberlake – Mirrors                                                                                          K-Ci and JoJo – All My Life                                                                                   Katrina and the Waves – Walking on Sunshine                                                   Katy Perry – Firework
Katy Perry – Unconditionally                                                                                       Keane – Somewhere Only We Know                                                                       Keith Urban – Making Memories of Us                                                                   Kings of Leon – Use Somebody                                                                                Lady Gaga – Bad Romance                                                                                     Lana Del Rey – Young and Beautiful (The Great Gatsby)                                   Leonard Cohen – Halleluja (in the style of R. Wainwright)                                      Led Zeppelin – Going to California                                                                                Lorde – Royals
Lou Reed – Perfect Day
Louis Armstrong – What a Wonderful World                                                             Maroon 5 – Moves Like Jagger                                                                             McFly – It's All About You                                                                                       Metallica – Master of Puppets
Metallica – Nothing Else Matters                                                                            MGMT – Kids"                                                                                                          Michael Jackson – Billie Jean                                                                               Michael Jackson – Thriller                                                                                       Michael Jackson – Human Nature
Michael Jackson – Smooth Criminal
Michael Jackson/Jackson 5 – I'll Be There"                                                    Mumford & Sons – I Will Wait
Muse – Starlight                                                                                                                Nat King Cole – Unforgettable"                                                                                Nina Simone – Feeling Good                                                                                 Nirvana – Come As You Are                                                                                         Oasis – Wonderwall                                                                                                        Paul Weller – English Rose                                                                                         Peter Gabriel – The Book of Love                                                                               Pharrell Williams – Happy"                                                                                             Pink Floyd – Shine On You Crazy Diamond                                                                Phil Collins – Groovy Kind Of Love                                                                             Queen – You're My Best Friend                                                                                     Ray LaMontagne – You Are the Best Thing                                                                 Richie Valens – La Bamba                                                                                           Robbie Williams – Angels                                                                                           Sam Smith – Stay with Me                                                                                          Shirley Bassey – Diamonds Are Forever
"Sinatra":
Fly Me To The Moon
Come Fly With Me
Misty                                                                                                                                 My Way                                                                                                                       Something Stupid                                                                                                            Summer Wind
Snow Patrol – Chasing Cars                                                                                       Spice Girls – Spice Up Your Life                                                                              Stevie Wonder – Signed, Sealed, Delivered                                                            Sting – Fields of Gold                                                                                             Swedish House Mafia – Don't You Worry Child                                                     The Corrs – Runaway                                                                                                   The Cure – Just Like Heaven                                                                                      The Darkness – I Believe in a Thing Called Love                                                        The Doors – Light My Fire                                                                                       The Killers – Mr Brightside                                                            The Lumineers The Verve – Bittersweet Symphony       Tina Turner – Simply The Best                                                U2 -One                                                          U2 – All I Want Is You
U2 – Beautiful Day
U2 – With or Without You
Westlife – Flying Without Wings
Trio Testimonials
I just wanted to thank you and Rachel & Martin very much for the wonderful music that the string trio played.
Everyone was commenting on the music which just added to the most amazing day. Caroline Kinney
Marcus and I would like to thank you all for the wonderful contribution that your performance had at our celebrations on the 17th July at our house. We and our guests enjoyed your music greatly and felt it enhanced the evening's enjoyment.
It was a delight to make your aquaintance we will certainly be recommending you to others… Susan & Marcus Dole