Do you want to put strings on your track?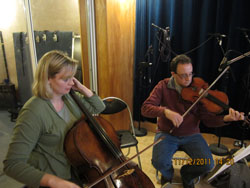 We have had experience working with a variety of briefs. Whether it's a pop song, TV ad or film score we can help you.  Whatever type of project, live strings can make an enormous difference to the sound of your recording.
All the members of Premiere Strings perform at the top level in London and have had extensive experience in recording sessions. We can source a small or large string section to cater for your needs – whatever your budget we can help!
Premiere String Quartet has had extensive experience recording a variety of material and working in some of the top recording studios across the UK. We have played in recording sessions for film scores, pop tracks, TV adverts and video games along with BBC radio plays.
We are experienced arrangers and are able to assist in adapting your material to work for strings.  Whether you need a simple solo string line or more full or complicated string arrangements we can advise you how to achieve the best possible effect.
We can also recommend a studio and sound engineer to suit your recording sessions.
» Recording Studio in S.E. London for live bands, v/o artists etc, with Grand Piano
Our players have been involved in projects including:
Radiohead

Pet Shop Boys

John Harle

Divine Comedy (Violin Solos)

Paul McCartney

Tim Garland

Joanna Newsom

Il Divo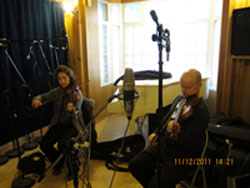 We were asked to provide a string section for a recent recording project, creating a music track to help patients with stress management needs. This was a collaboration with Dr Peter Gruenenwald, a London based GP and physician. Tuning the instruments to A = 332 Hz, a concert pitch that is known to have a harmonizing and therapeutic effect, the string quartet recorded a simple composition of just four tones and three intervals, designed to help with the pacing of breathing and activating a state of consciousness that would stabilise heart rate variability and so enhance physical and emotional health. The research study using the recording is on-going.
BBC Radio plays including Radio 4 play Les Miserables (Solo Cello) and Joanna Lawrence play on the Wire BBC radio 3
Video Games including Kung Fu Chaos for XBox
Library Music – various projects
Movie Sountracks including:
Lord of The Rings

Harry Potter Films

Clash of the Titans

Carl Davis Soundtracks to Chaplin films including The Kid & City Lights
Contact us for more information about our session string quartet: available for any sort of recordings in the UK.