About the String Duo
The String Duo can be made up of different combinations – violin and cello, viola and cello (our favourite!) or even 2 cellos.  People are surprised when they realise they can still walk down the aisle to Pachelbel's Canon in D played live without having a full string quartet. Not all venues are able to cope with the space required for a string quartet. Also with a smaller number of guests a string quartet is sometimes not necessary, you can be pleasantly surprised to hear how the trio and duo can project.
If you had a particular piece in mind that's not on our list we can look into finding it or making a classical duo arrangement for you. We are experienced arrangers and most pieces will work well for any combination.
Option 1
Cello & Violin

Option 2
Cello & Viola

Option 3
Cello x 2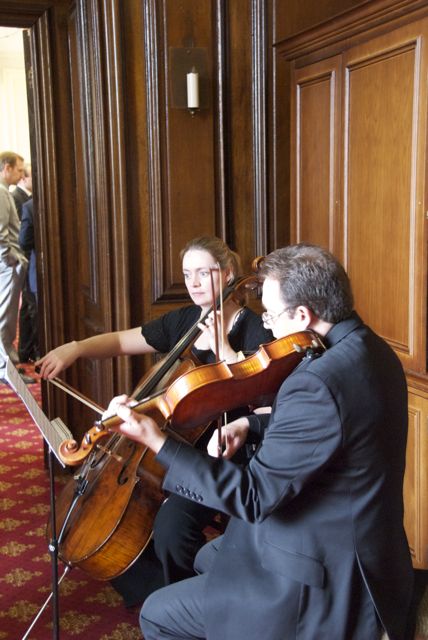 Duo Testimonials
"We just wanted to thank you for playing at our wedding at Horsley towers on 3rd April 2010….the music was wonderful."
Thanks so much for performing at our wedding.  You and your duo partner did a fantastic job and added beautifully to what turned out to be a perfect day for Emma & me. Loads of our guests paid you great compliments.  The word 'outstanding' was used more than once!  Emma says it really made the ceremony so much more special, and I agree totally. Karen Jones
Many people commented on how the music helped to make it such a fantastic day. Linda & Jeremy
Thank you so much, your playing was beautiful and much appreciated. Alison
A huge thank you, I think you did an amazing job, thank you very much! Shona
Duo Repertoire
Below is a list of string duo repertoire split into classical music and light/pop/rock/movies categories.
CLASSICAL MUSIC

Bach, Johann Sebastian
Air on  the G String
Andante  from Brandenburg Concerto No 2
Arioso
Gigue
Jesu, Joy of Man's Desiring
March in D Major
My Heart Ever Faithful
Rondeau
Sheep May Safely Graze
Double Violin Concerto (Largo)
Brahms, Johannes
Variations on a theme of Haydn
Sicilienne
St. Anthony Chorale
Clarke
Trumpet Voluntary
Handel
Allegro from Sonata in F Major
Bourree from The Fireworks Music
Arrival of the Queen of Sheba
Loeillett, Jean Baptise
Allegro
Massenet, Jules
Meditation from Thais
Mozart
Eine Kleine Nachtmusik
Menuetto
Romanza
Duo in G and B flat
Pachelbel
Canon in D
Schubert
Andante from String quartet in A minor
Schumman
Traumerei
Telemann
Vivace
Traaditional Irish Melody
Be Thou My Vision
Beethoven
Minuet in G
Ode to Joy from Symphony No9
Eye Glass duo
Delibes
Flower Duet
Early American Melody
Amazing Grace
Frank, Cesar
Panis Angelicus
Gossee
Gavotte
Tambourin
Handel
La Rejouissance from The  Fireworks Music
Largo from Xerxes
Sarabande
Water Music Suite
Air
Allegro
Andante
Bourree
Hornpipe
Mouret
Rondeau
Mozart
Ave Verum Corpus
Tondo alla turca
Purcell
Rondeau
Trumpet Tune
When I Laid In Earth from Dido and Aeneas
Rimsky Korsakov
Scheherazade Theme
Shaker Hymn
Simple Gifts
Shostakovich
Romance
Vivaldi
Danza Pastorale
Largo from Winter (Four Seasons)

LIGHT/POP/ROCK/MOVIES

 ABBA
 Mamma Mia
 Super Trouper
 ADELE
 Make You Feel My Love
 Rolling In The Deep
 ANDREW LLOYD WEBBER
 I Don't Know How To Love Him
 Music Of The Night
 ARCADE FIRE
 Rebellion Lies
 AVENGED SEVENFOLD
 Seize The Day
 BEACH BOYS
 God Only Knows
 Wouldn't It Be Nice
 BLUR
 Tender
 BRUNO MARS
 Marry You
 BEATLES
 All You Need Is Love
 Eleanor Rigby
 I Want To Hold Your Hand
 In My Life
 Love Me Do
 She Loves You
 BART HOWARD
 Fly Me To The Moon
 BURT BACHARACH/CARPENTERS
 Close To You
 BEN E. KING
 Stand By Me
 BEN FOLDS
 The Luckiest
 BERNIE LEADON
 Journey of the Sorcerer
 (HitchHikers Guide To The Galaxy)
 BEYONCE
 Halo
 BOB MARLEY/VINCENT FORD
 No Woman No Cry
 BON IVER
 Skinny Love
 CARLOS GARDEL
 Tango Por Una Cabeza
 CHRISTINA PERRI
 Thousand Years
 CLEAN BANDIT ft. JESS GLYNNE
 Rather Be
 COLDPLAY
 Clocks
 Paradise
 The Scientist
 Sky Full Of Stars
 Viva La Vida
 Yellow
 CYNDI LAUPER
 Time After Time
 DAMIAN RICE
 The Blowers Daughter
 THE DARKNESS
 I Believe In A Thing Called Love
 DAVID BYRNE
 This Must Be The Place
 DEPECHE MODE
 Just Can't Get Enough
 DES'REE
 Kissing You
 THE DOORS
 Light My Fire
 DIDO
 White Flag
 DIXIE CUPS
 Chapel Of Love
 ED SHEERAN
 Thinking Out Loud
 ELTON JOHN
 Can You Feel The Love Tonight
 Your Song
 ELBOW
 One Day Like This
 ELLIE GOULDING
 Love Me Like You Do
ELVIS PRESLEY
Love Me Tender
ENNIO MORRICONE
Them From Cinema Paradiso
Gabriel's Oboe (The Mission)
ENRIQUE IGLESIAS
Hero
ENYA
Only Time
ERIC CLAPTON
Tears In Heaven
Wonderful Tonight
ETTA JAMES
At Last
EVA CASSIDY
Songbird
FLEETWOOD MAC
Everything
FOO FIGHTERS
Everlong
FRANCIS LAI
Theme From Love Story
GEORGE HARRISON
Here Comes The Sun
GOO GOO DOLLS
Iris
HANS ZIMMER
TIME from Inception
HOOTIE AND THE BLOWFISH
Hold My Hand
HOWARD SHORE
IN Dreams (Lord of the Rings)
JOSH GROBIN
You Raise Me Up
JAMES BLUNT
You're Beautiful
JASON MRAZ
I'm Yours
JASON MRAZ ft. COLBIE CAILLAT
Lucky
JOHN DENVER
Annie's Song
JOHN LEGEND
All Of Me
JOHN WILLIAMS
Theme from Schindlers List
Theme from Jurassic Park
Star Wars Main Titles
KATY PERRY
Unconditionally
KEANE
Somewhere Only We Know
THE KINKS
This Time Tomorrow
KOOL AND THE GANG
Celebrate
LANA DEL RAY
Young And Beautiful
LEONARD COHEN
Hallelujah
THE LUMINEERS
Ho Hey
LOU REED
Perfect Day
LOUIS ARMSTRONG
What A Wonderful World
MAGNETIC ZEROS & E. SHARPE
Home
METALLICA
Nothing Else Matters
MICHAEL BUBLE
Everything
MANCINI & MERCER
Moon River
MARK KNOPFLER
Storybook Love
MICHAEL JACKSON
Billie Jean
MAROON 5
She Will Be Loved
MUMFORD & SONS
I Will Wait
MUSE
Starlight
NAT KING COLE
Let's Face The Music
NORAH JONES
Don't Know Why
OASIS
Wonderwall
ONE REPUBLIC
Secrets
OTIS REDDING
Sittin' On The Dock Of The Bay
PAUL SIMON
Bridge Over Troubled Water
PENDULUM
Propane Nightmares
PERFECT CIRCLE
3 Libras
PETER GABRIEL
The Book Of Love
PHIL COLLINS
Groovy Kind Of Love
PINK
Glitter In The Air
PLAIN WHITE T'S
Rhythm Of Love
RAMIN DJAWADI
Game Of Thrones Them
RAY LA MONTAGNE
You Are The Best Thing
RIHANNA
We Found Love
ROBBIE WILLIAMS
Angels
Feel
RONAN KEATING
When You Say Nothing At All
SAM SMITH
Latch (Acoustic)
SNOW PATROL
Chasing Cars
SEAL
Kiss From A Rose
SIGUR ROS
Hoppipola
STEVIE WONDER
You Are The Sunshine Of My Life
STING
Fields Of Gold
TAYLOR SWIFT
Love Story
Wildest Dreams
TRAIN
Marry Me
TREVOR JONES
The Kiss (Last of the Mohicans)
TAKE THAT
Greatest Day
Rule The World
VAN MORRISON
Into The Mystic
YAN TIERSSEN
Le Banquet (Amelie)
Waltz from Amelie
U2
All I Want Is You
City Of Blinding Lights
With Or Without You
WANNADIES
You And Me Song